VIP CARD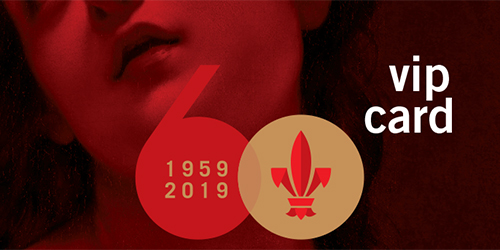 BENEFITS FOR VIP CARD OWNERS

ACCESS TO THE PREVIEW OF THE BIENNALE INTERNAZIONALE DELL'ANTIQUARIATO on 20 September 2019 from 10.30 am until 8.00 pm

ACCESS TO THE PREVIEW OF THE BIENNALE INTERNAZIONALE DELL'ANTIQUARIATO from 21 to 29 September, non-stop from 10.30am to 8.00pm. On Saturday 21 September the Fair will close at 9.00 pm – on Thursday 26 September the Fair will close at 7.00 pm

ACCESS to the events connected to the Florence Art Week (complete list of events on www.biaf.it)
On 21 September, free admission to the Museum of Palazzo Vecchio, Piazza della Signoria 1 – Museo del Novecento, Piazza S.M. Novella, 10 – Museo Bardini, Via dei Renai, 27.

FRATELLI PICCINI - Ponte Vecchio, 21-23 R. VIP lounge with finger food and sparkling wine tasting, set up inside the historic Fratelli Piccini luxury jewellery store, winner of prestigious awards such as the Venice Biennale and the International Diamond Award.
AXA and Art Defender, on 20 September at 5.00 pm, are proposing a visit to the Altarpiece by Bernardino Poccetti (Florence 1548-1612) (attr.) "St. John preaching to the multitude". Seminario Arcivescovile Maggiore Fiorentino, Lungarno Soderini 9R.
An opportunity to get closer to a "secret Florence" and to appreciate live the experience of little-known art enhancement, conserved in the cloisters of the Seminary. An aperitif will follow. The seminary will remain exceptionally open starting from 3.00 pm.
Booking through the BIAF Concierge service is preferable.

CONCIERGE SERVICE by: "Firenze Yes Plaese by Florencetown" - fit@florencetown.com - Dedicated customer service hotline: +39 342 386 9628
COURTESY CAR SERVICE by MASERATI: On 19-20-21 September, several cars from the House of the Trident will be made available to VIP guests.
This is a personalised service which is complimentary for their city transfers. For bookings: Tel. +39 055/282635